Unofficial Aging Tabs 0.7.1.5: Makes unused tabs fade with age and highlights the selected tab – and more!
This extension is based on Aging Tabs 0.7.1: created by Dao Gottwald
This is useful if you always have a lot of tabs open – you can see at once which of those are not so popular and may decide to close them.
I extended this extension to automatically close the oldest tabs and even bookmark them with a specific tag so that you can get back to them later!
Some screenshots: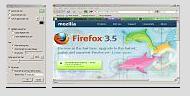 Changelog:
2011/11/12 in Unofficial Aging Tabs 0.7.1.5:
added option to prevent closing already bookmarked tabs – keep your favorite tabs open at all times
added the option to query delicious.com to suggest tags for the tab which should be closed
is now compatible with Firefox 8.0, 9.0b1 and 10a1
2011/08/07 in Unofficial Aging Tabs 0.7.1.4:
is now also compatible with Firefox 5.0
2010/07/28 in Unofficial Aging Tabs 0.7.1.3:
is now also compatible with Firefox 4.0
2010/04/25 in Unofficial Aging Tabs 0.7.1.2:
added a Toolbar button to easily reset aging data (useful if the killtabs option is active and you want to prevent tabs from being closed automatically in the near future…)
is now also compatible with Firefox 3.7
2009/07/28 in Unofficial Aging Tabs 0.7.1.1:
added option to close tabs automatically
added option to bookmark the tabs before closing
added German translation for my changes
—